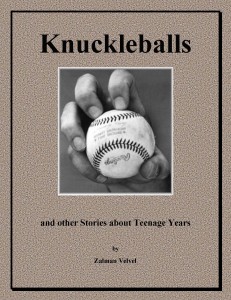 "Knuckleballs and other Stories about Teenage Years"
by Zalman Velvel
Our teenage years are a powerful period in our lives. Our hormones are raging as we vacillate between childhood and adulthood. It is a time of pushing boundaries, and exciting exploration. This book will bring you back to those dramatic times though nine powerful stories, many of which won awards, and were published around the world. It is a book you will read many times.
ORDER NOW! – MONEY BACK GUARANTEE YOU DON'T LIKE IT, YOU DON'T PAY FOR IT!
Read what other readers had to say about Knuckleballs:

Ben from New Jersey
This is the best book I've ever read about teenagers. I felt like I was really there while I was reading. Knuckleballs is my favorite story.
Betty from Houston
I liked "Doing a Fred Astaire on his Skull" the best. I know these people. I grew up with them and am going to high school with them. I am so glad my Mom bought this for me.
Larry from Oklahoma City
This is like a modern day Outsiders. Uncle Zally gets what is like to be a crazy teenager, and makes some sense out of the crazy things we go through. Thank you, Uncle.
Seth from Seatle
My Dad bought this book for me after I got suspended from high school. I stopped screwing around and got serious about my life after reading it.
Danah from Portland
A moving and beautiful story that had much meaning for me. I shall read it again and again.
ORDER NOW – MONEY BACK GUARANTEE – YOU DON'T LIKE IT, YOU DON'T PAY FOR IT!
Click on button below to instantly receive a Pdf for just $4.95
Click on button below to instantly receive Kindle formal copy for $4.95
Click on the button below to instantly receive Nook or Ibook format copy for $4.95
To See other Books by Zalman Velvel, CLICK HERE for "Uncle Zally's" BOOKMART