Will Work 4 Food
a new play by Zalman Velvel
Wednesday – Sunday, September 19, 20, 21, 22 at 7PM, Sept 23 2PM
Foulds Theatre, Lee County Alliance of the Arts
10091 McGregor Boulevard Fort Myers, FL 33919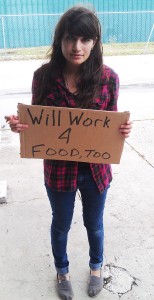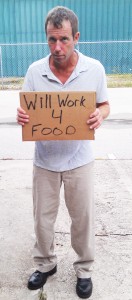 What happens when the freest soul on God's green earth meets up with the most desperate young woman alive? This exciting world premiere of a new play by a SW Florida playwright, director, and actors will keep you on the edge of your seats, and thinking about it for years to come.
Performed by Todd Fleck, Gabriela Elvir, and Steve Vallo
Individual tickets are $18, two for $25.

Call 239-768-1234,
OR
YOU CAN ORDER ONLINE RIGHT NOW
All seats are the same price, OPEN SEATING, first come first served
SENIOR CITIZENS AND COLLEGE STUDENTS 1/2 PRICE ON WED, SEPT 19 & THURS, SEPT 20
CALL 239-768-1234 TO ORDER THEM
You may try to buy at the door, but it will be easier to buy online
Discounts for Alliance Members, Season Tickets & Groups.