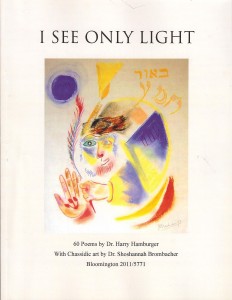 "I SEE ONLY LIGHT"
by Dr. Harry Hamburger with artwork by Dr. Shoshannah Brombacher
New book just out with 60 poems by "Dr. Eyes," Harry Hamburger. Dr. Eyes in a physician who writes Chassidic poetry. He writes to inspire others to think about why they were born, and the purpose of their lives, and that with acts of kindness, charity, and faith, each of us can find the light of God that is hidden inside. He believes darkness can not exist in the presence of light, and each of us can become a candle, to make the world a place where the spirit of God may dwell forever.
Dr. Shoshanah Brombacher in an artist inspired by the teachings of the Chassidic Masters. Her orignial colorful artwork inside is beautiful.
Click on the button below to order a signed copy for just $54.95 + $6 S/H
Read what other readers had to say about I See Only Light:

The Face in the Stone – Posted by John, Victoria, Canada
These poems story brought tears to my eyes. I feel as though I know Yussie, and have shared his pain. God Bless him, God bless everyone who feels as though his life is too hard.
The Land – Posted by Peggy Knight, Pascagoula
This poem was so incredible, sad, yet so inspiring. Yussie and the Rabbi both learned valuable lessons from one another. I cried when I read this, yet in the ending of the story, I was rejoicing in my heart for Yussie and the Rabbi. They both ended up winners and very blessed on both ends.
This was my dessert – Posted by Chava, Brooklyn, N.Y.

Refreshing, sweet, and a gulp I'll always remember.
Fire From Above – Posted by Jean, Cape Town, RSA

Thank you for sharing this beautiful poem with us. Pleased I decided to go on the website.
Free Hungry Bird – Posted by Ed K., Escondido, CA USA
A moving and beautiful poem that had much meaning for me. I shall read it again and again.
Click on the button below to order a signed copy for just $24.95 + $6 S/H