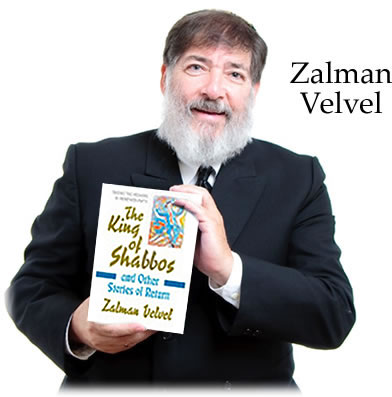 "KING OF SHABBOS"
by Zalman Velvel | Dedication
New book just out with 18 of Zalman's stories. How often do you read a Funny story that makes you laugh out loud, or an Inspirational story wipe tears from your eyes? Zalman's funny and inspirational stories have been published around the world and won awards You will know the characters, some of whom might even be you Here, for the first time, is a volume of his most poignant work! Read … enjoy … and become inspired.
Click on the button below to order a signed copy for just $24.95 + $6 S/H
Read what other readers had to say about King of Shabbos:

Yussie - Posted by John, Victoria, Canada
This story brought tears to my eyes. I feel as though I know Yussie, and have shared his pain. God Bless him, God bless everyone who feels as though his life is too hard.
Yussie and Rabbi Levi – Posted by Peggy Knight, Pascagoula

This story was so incredible, sad, yet so inspiring. Yussie and the Rabbi both learned valuable lessons from one another. I cried when I read this, yet in the ending of the story, I was rejoicing in my heart for Yussie and the Rabbi. They both ended up winners and very blessed on both ends.
This was my dessert – Posted by Chava, Brooklyn, N.Y.

Refreshing, sweet, and a gulp I'll always remember.
Yussie's Yom Kippur Prayer – Posted by Jean, Cape Town, RSA

Thank you for sharing this beautiful story with us. Pleased I decided to go on the website.
I Can't Say Goodbye, Yussie – Posted by Ed K., Escondido, CA USA
A moving and beautiful story that had much meaning for me. I shall read it again and again.
You may also buy each story individually for only $1. Try it out! Click on the tab on the Home Page that says "My Stories" and look at the different Stories of Return, or Secular Stories. You can print out the first page for free, and it you want to read the whole story, click at the end of the first page and you will go to the shopping cart, pay the $1 and it will be emailed to you as a PDF after you check out from the Shopping Cart. Just click on a story to purchase it for only $1.