Kabbalah Kronicles
33 – Talk to God, Zalman !
Uncle Zally
/
Zalman Velvel
_________________________________________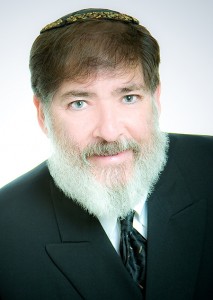 Picklepuss didn't show up at klass this morning.
Already, Kabbalah was making me feel more "centered" and "peaceful."
If you remember from last week's blog, I vowed not to let Picklepuss ruin the fun in the class anymore … especially the Komedy, because we all need a good laugh now and then … and laughter is healing … when our Knowledge of Kabbalah is lacking.
This week we were trying to zone in on one of the primary ways to get closer to God, and that is, "To serve Him with Joy."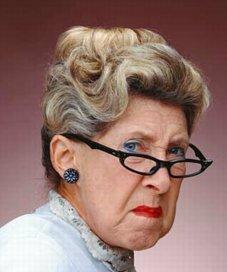 I was thinking, it's much easier to serve God with joy now that Picklepuss is not here.
But how do you remain "centered and peaceful," with your seven emotions in balance, and at the same time, feel happy and joyful, so that you can best serve God?
The Rabbi explained it three times.
The first time, he talked about the difference between Eve, Noah, and Sarah.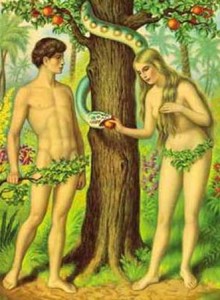 Eve apparently talked to the devil, in the form of the snake. Noah got drunk and ran around naked in front of his children, but Sarah remained righteous no matter what.
Then the Rabbi told a parable about three Hasids who were on their way to see their Rebbe to get spiritual enlightenment. They hired a wagon driver to take them, who put a carrot in front of his horse to make the horse go faster … but when they got to the Rebbe, he was not home.
Apparently we have all three of them inside of us, the horse, the wagon driver, and the Hasids. The horse is our animal desire, the wagon driver is our need for money and to make a living, and the Hasids are our spiritual need to become closer to God.
There was a moral to the story, something about striving and succeeding in communication with the Almighty, and then striving and failing, but not remaining bitter or sad. And yet even if you have some bitterness or sadness, you could still be happy and joyful. Each time the Rabbi explained it, the concepts became more hazy.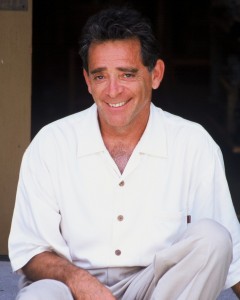 David, my komedy buddy, hassled the Rabbi about the meaning of being bitter, versus sad, as only David can split hairs about meanings.
You should see him do that when we are setting up a joke, spending an hour on meter, timing, and the right word in the punch line, which drives me even more crazy than it drives the Rabbi, especially when David is right, and the joke is better … but that is Komedy, not Kabbalah, although today, after we finished a double liter of Stolle's, I couldn't tell the difference between either …
To tell you the truth, I still don't know the answer about how to be joyful in the face of sadness or bitterness, after an hour long Kabbalah Klass and a farbregan afterwards … except that Dying is easy, and Kabbalah is komplicated, and Komedy is very hard. I repeatedly asked the Rabbi to explain it better, and he couldn't.
Finally, the Rabbi threw his arms in the air in frustration and said, "Talk to God, Zalman."
… and God told me a joke.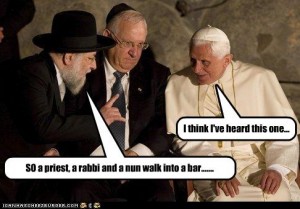 God said, there was a Priest, a Minister, and a Rabbi … and they all walk into a bar …
Remember, the air in Fort Myers makes you funnier. I invite you to come on down when it's snowing, and warm up by the fire of Kabbalah. Stop in at Chabad of Fort Myers and take a Kabbalah Klass with Rabbi Itchy on Saturday morning, from 9 to 10.
Oh, and bring some Grey Goose or Chivas Regal with you.
We'll all get spiritual, and David will make up a few jokes, and I may even get funny. Oh, and I'll finish telling you the joke God told me.
And maybe we can all get Picklepuss to lighten up and laugh a little.

Filed under Thought For A Day · Tagged